History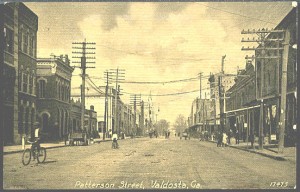 The City of Valdosta traces its beginnings to Downtown, the core of Valdosta's commerce and industry. Valdosta, the Lowndes County seat was incorporated as a town in 1860, when efforts to bring a railroad to Troupville, the previous seat, failed. The name Valdosta was selected to honor Governor Troup, who owned an estate called "Val d' Aosta".
Downtown Valdosta is laid out in a grid pattern, with a courthouse square in the center. After the Civil War, downtown buildings changed from wood to masonry due to an 1872 ordinance prohibiting repair of wooden structures and construction of new wooden buildings in the central business district.
The regional economy revolved around the production and transportation of agricultural products, principally short-staple cotton, and later Sea Island cotton. Valdosta soon became the largest inland Sea Island cotton exchange in the world. By 1899, Valdosta was the smallest city in America to install a public transit system.
During the prosperous years at the turn of the century, Valdosta saw the construction of several notable landmarks, including the Lowndes County Courthouse and the former Post Office.
Most of Valdosta's commercial architecture was constructed along the two main north/south thoroughfares: Ashley and Patterson Streets. Downtown Valdosta's buildings exhibit a wide array of locally adapted construction techniques and styles that were nationally prevalent at the turn of the century. Among the architectural periods represented are the Victorian Era, Eclectic Era, Modernistic, and the Neo-Eclectic Era.
Through two world wars and The Great Depression, Downtown Valdosta remained a vibrant part of social, commercial, and political activity that lasted well into the 1950s. The 1960s and 1970s brought hard times to downtown, but the 1980s brought renewed prosperity. With Valdosta's selection as a Main Street City in 1984, Downtown began its comeback establishing itself as the center for business, government and culture.